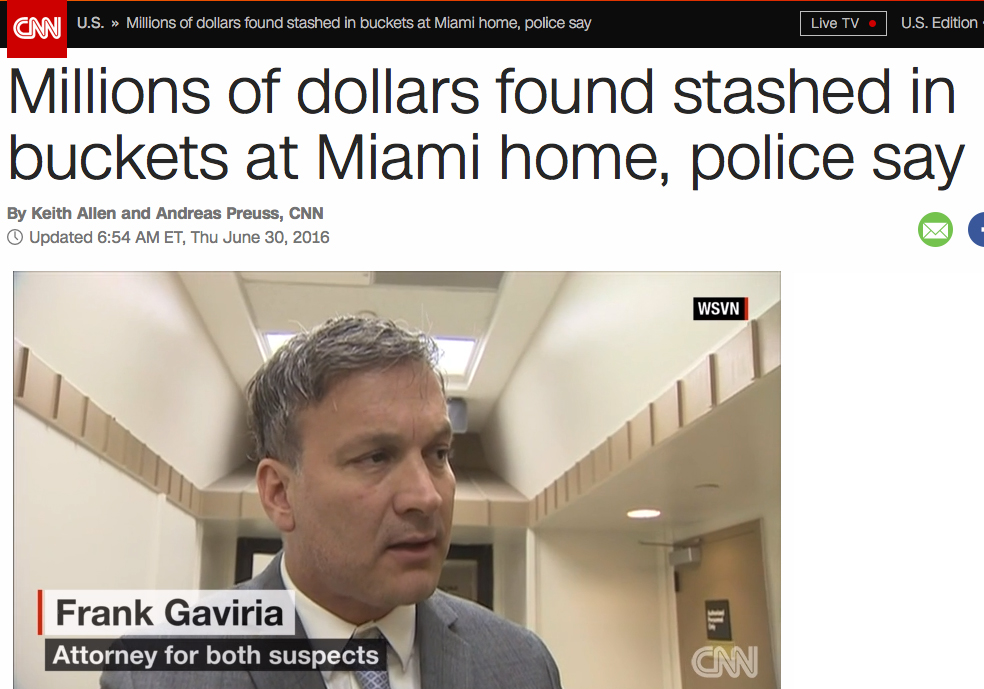 This is custom heading element
Millions of dollars found stashed in buckets at Miami home, police say
Authorities found millions of dollars stashed inside buckets hidden in attic walls, along with drugs and a gun, during a search of a home in the Miami area.
Between $10 million and $20 million in cash was found after a search of a business and a home, according to arrest documents from the Miami-Dade Police
---
This is custom heading element
MIAMI (CBSMiami) – Miami Lakes Mayor Michael Pizzi mugged for the cameras and worked the crowd Wednesday night before the town council requested the Florida Department of Law Enforcement conduct an independent probe of his crash with a tree in June.
Witnesses said Pizzi left the scene for at least 45 minutes and never called police. He was not ticketed.
---
This is custom heading element
MIAMI BEACH, Fla. — Buffalo Bills receiver Roscoe Parrish was arrested on a charge of driving under the influence, police said.
Parrish was stopped at 4:30 a.m. on Saturday, said Miami Beach Police Department spokesman Juan Sanchez. Parrish was driving a 2005 Bentley westbound on MacArthur Causeway, which connects Miami Beach to the mainland.
Sanchez said Parrish was taken into custody on a DUI charge. A Miami-Dade County jail spokeswoman said he was released later Saturday on $1,000 bond.
---
This is custom heading element
MIAMI (CBS4) – A student charged with stabbing a classmate Tuesday at Barbara Goleman Senior High in Miami Lakes says he acted in self-defense.
"He was choking me, and I couldn't breathe and I obviously was concerned for my life", said 18 year-old Frank Acosta in a Thursday interview with CBS4′s Gary Nelson.
Mauricio Padron, 17, was stabbed or cut several times Tuesday and was air-rescued to Jackson Memorial Hospital with what proved to be minor wounds. He was released from the hospital the next day.
---
This is custom heading element
Miami Dolphins defensive tackle Shane Burton faces drunken driving charges and two other traffic charges after a May 9 arrest by a Florida Highway Patrol trooper.
Around 6:30 a.m., Trooper Lisa Drake saw Burton, 25, driving his blue Lexus east in the westbound lanes of State Road 84, just west of Southwest 136th Avenue, according to an arrest report. The car's emergency flashers were on. Drake pulled the Lexus over and told Burton to get out of the car.
According to the report, his blood alcohol level was .106; the legal limit in Florida is .08.
---